A quick change to the line up of patterns, please forgive me. I decided that I would test out the patterns prior to September and I'm glad I did. The Coffee Date dress will be removed and replaced with a dress direct from BurdaStyle. Although this dress costs a little it's worth it! While making the Date Dress I discovered the pattern pieces don't line up. The sizing is off enough to make a difference and rather than try to make it work I would rather pick a pattern I trust. Plus it has pockets!
Because of this change I want to give you plenty of time do grab your materials. So the line-up will be
Bloomers: September 4th
Skirt: September 11th
Tank Dress: September 18th
Batiste Jacket: September 25th
So Introducing:
The Tank Dress with a Gathered Skirt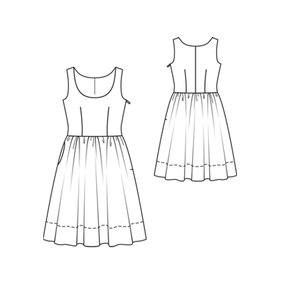 Needed:
4 yard of material
1 yard of lining
9" zipper
If you would like to add a ruffle to this simple dress I can include the instructions, It's super easy.
Can't wait to get started with you guys!