Hello friends, as summer nears an end I'm looking forward to some Autumn weather, bon-fires, jackets and light rains. I can't wait for leaves to begin to change, baked bread and homemade apple butter as well as soups and chili. MMM I love potato soup! I'm also beyond excited for our first sew-a-long, I hope everyone is as excited about it as I am.
The patterns range in levels of difficulty, starting with the easiest first. We'll start with the Coffee date dress, I know you may be thinking, "Um seriously a dress is the easiest?" This dress is! below is listed the material and notions you'll need, where to find and print the pattern and of course the start date. I currently have three patterns picked out, the fourth is going to be picked by voting. Currently there is only one that costs anything, the Batiste Sports Coat, but the nice thing about buying this pattern is you have full access to the pattern for life, you can print it out as much as you want, use the different sizes and never have to buy a blazer again! Totally worth it in my book, especially since it's hard for me to find a blazer that fits me perfectly!
Each day we'll take a few steps at a time and by the end of the week you'll have a lovely garment to claim as your own creation. as well as skills you'll develop on the way, such as stitching a zipper, creating ruffles, doing an invisible hem, stitching lining into a garment, and pockets So how about we get to the best of details, what we'll be making!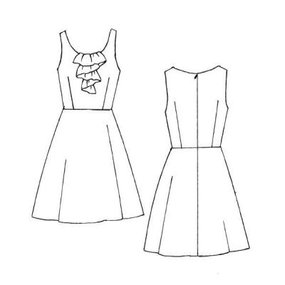 what you'll need:
material:
2 1/2 yards of light weight woven fabric, such as cotton, cotton poplin, gingham, seersucker etc.
1/4 yard of light weight sew in interfacing
notions:
hook and eye
18" invisible zipper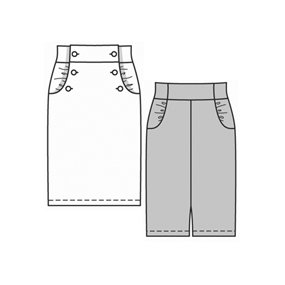 Begins September 11th
materials:
1 3/8 yards twill
1/2 yard lining
notions:
9" zipper
6 buttons (if desired)
hook and eye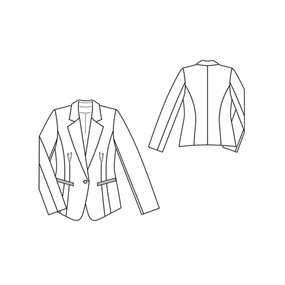 First off don't you think this would look lovely over that date dress? And the pattern only costs $5.40!
Begins September 25th
materials:
2 1/2 yards of batiste fabric, this is cheap and light weight!
2 1/4 yard of stretch lining, such as jersey
notions:
one button
We'll be voting later on in this week for the September 18th pattern, If you have any patterns you've had your eye on and would like to share feel free to leave a comment and I'll take a gander. have an awesome Monday!