Sorry for the absence, I caught Brett's cold and it's been kicking my butt all week. Banished to the bedroom I can't complain about the nice quiet time I've had for the past day and a half but I really need my energy level to spike with everything on my list before April.
Can't believe that we're in the 3rd trimester, I think every woman who's been pregnant can understand the feeling of just going along and suddenly you realize, holy poop, this baby is coming in 12 weeks. Now if you're not a crafter that may be seem like a long time off but when you're a crafter and cheap and want to make all of the basic stuff you realize that it's time to get moving!
I didn't really begin to sew until after Adelle was born so this is the first one to have a lot of stuff handmade. Including bibs, burp clothes, sheets, hats, leg warmers, boppy, mobi wrap and my very first hand knitted blanket.
It's been fun deciding what will be included in Adrian's surroundings, but there is still a TON left to do.
For one I have 3 bridesmaid dresses to finish and a flower girl tutu to start.
The bodice for the first dress, All 3 are different and very fun.
And with Pinterest's help my
Adrian style board
grows daily.
There is really nothing better than the feeling of inspiration:
click on the picture to get the direct link.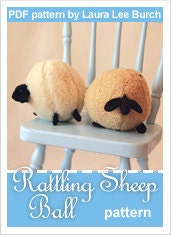 These sheep rattles are so cute, I totally want to make one of these!
Who can resist a little boy in an old man sweater?
This one is a little bit down on the priority list but still can't resist looking at it. Again if you're interested in any of these just click the pictures and they'll take you to the direct links. This little sweater happens to be on sale over at Janie and Jack for $24.99.
Well it's time for some rest. My Mom comes tomorrow to get her hair done and Adelle has speech therapy. Better get in those Z's while I can.