As we are prepping for baby boy, I've been doing a lot of baby related projects, I think the phrase I use most now is, "don't touch, that's the baby's!" I'm sure Adelle is getting frustrated, wondering why this unknown baby keeps getting stuff while she isn't allowed to play with any of it. Earlier today she went to get one of Adrian's bibs, and I said my little phrase but ended it with, "but would you like mommy to make something for you today?" She answered very happily with her usual "Okay!"
I laid her down for her nap, after enjoying an amazing pizza roll!, Seriously you gotta try this, love Pinterest!!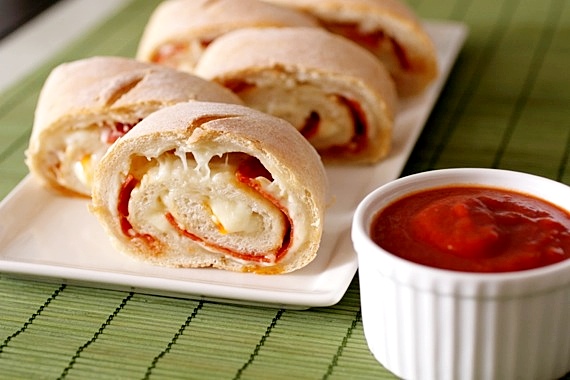 Only 3 ingredients and 30 minutes later it was gone!
I really only wanted to make a long tunic for Adelle's summer wardrobe, and considering this fabric was on sale for $1.57 a yard and I only needed 3/4ths of one, I'd have to say that this was a cheap trick!
The button closing is probably the most amazing little thing I have ever stumbled upon, seriously so easy, and no need for a lining. She walks you through it so nicely and it cuts down your sewing time since you don't have to line any part of the bodice!
Check out the rest of her tutorials I think I have about 10 pinned into Adelle's style!
Adelle hasn't seen it yet but I have a feeling she'll like it! Have an awesome weekend, I have to clean up my workspace then I'm gonna go take a nap too.